We're still in the early stages of understanding the longer-term impact the COVID-19 pandemic will have on the real economy. That said, the immediate impact on people's lives and the dislocation of markets is evident.
While the crisis has no doubt emphasized how critical balance sheet resilience is now for companies and their longer-term viability, it has also accelerated a number of environmental, social and governance (ESG) themes which existed before the crisis. Many investors and executives argue that now is the time to "build back better" and create a more sustainable corporate world.
Against this backdrop, we see three near-term implications for investors which we believe will be sustained over the longer term.
Wider Stakeholder-Oriented Models and Focus on Stewardship—A Luxury or Necessity?
The crisis has both intensified and highlighted a range of societal issues, such as growing inequality and the fragility of customers and employees, especially in certain segments of the economy which have been left with little protection. It has also underscored the interconnectedness of people, the planet and profit.
These drivers will increasingly require us to reframe what a well-managed business looks like. It reflects the increased pressure all companies face to manage a wider group of stakeholders beyond just shareholders. What we're advocating are the ingredients that go into capturing quality and incorporate wider attributes. The crisis shines a light on the growing relevancy to corporates of wider stakeholder-oriented models, which provide equitable returns not just to shareholders but to employees, customers and suppliers, as well as the effective management of environmental externalities. All these considerations ultimately earn a company's social license.
This infers a focus on stewardship and active engagement by investors. As investors, we are responsible stewards of our clients' capital, which is to say we look after the assets our clients have entrusted us, with a view of returning them in a better condition than which we acquired them in the first place. ESG information provides an assessment on how companies are managing these issues. As such, it becomes a tool not only to further differentiate between well-run businesses versus the laggards, but also identify companies that are making a positive societal impact.
We've been advocating this for quite some time—companies need to consider wider stakeholder models in a changing world. We are mindful that businesses today are facing significant cost pressures in regard to allocating capital towards the welfare of staff, customers and suppliers.
The conversations we've had with companies during this uncertain period have revolved around the strength of balance sheets, cash flow sufficiency and liquidity—all of which we use to assess whether a business can continue to operate over the long term. Our messaging has focused on exercising prudence and caution with a view that management should review the appropriateness of dividend and buyback programs, examining whether these policies could weaken the operational viability of the business in the face of the near-term pressures we outline above.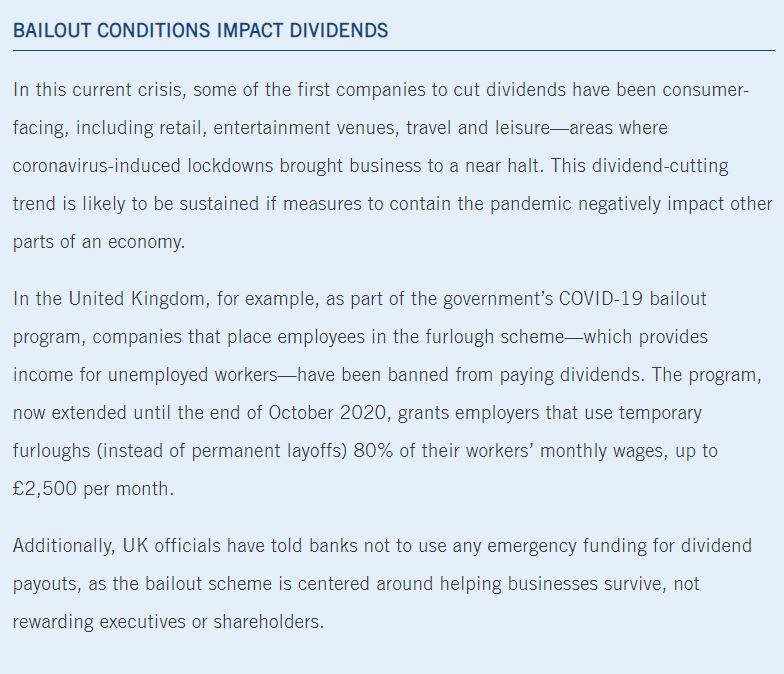 Human Capital Matters
The coronavirus pandemic has put human capital under the spotlight—issues such as employee contracts and rights have come to the forefront as investors and civil society scrutinize how businesses act during the crisis, including the way they treat their workers.
The crisis has exposed the fragility of independent contractors within the gig economy and those on zero-hour contracts in sectors heavily affected by the crisis, such as entertainment and leisure. Many of these workers have been left with little protection, both financial and health-wise. Post COVID-19, it is reasonable to expect sustained pressure on companies to improve labor rights and pay, which represents higher costs for companies and implies the levels of free cash flow distribution back to shareholders are unlikely to revert back to pre-COVID-19 levels, at least in the near term.